Where to view the side modal and how to use it
Viewing the Assignment Side Modal
The assignment side modal will be available in all assignment details. For assignments in Draft, Offered and In Casting statuses, assignment details are the default view. Once an assignment is in progress, you can find the assignment details by clicking on the edit details link, below the assignment title in the right hand side menu.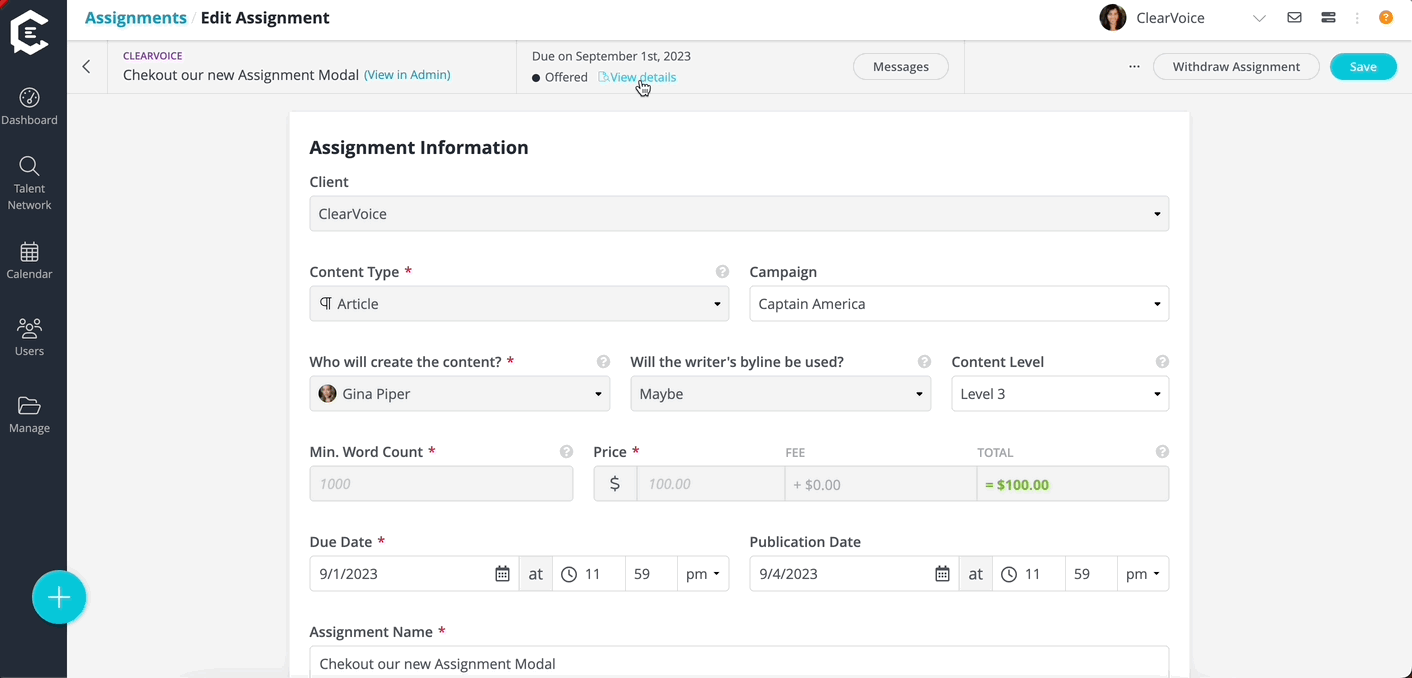 Within the modal you'll see tabs for
Details - view general information about the assignment and the people involved here

Instructions - view the full instructions and editorial guidelines here, as well as any associated reference materials

Activity - see the full history of the assignment here from dispatch, through publication with dates

Conversation - find the full messaging thread for the assignment here, and add any followers that need to be looped in on the assignment chat

To close the modal, simply click on the X located in the top right corner of the modal.
If you wish to make any changes to the assignment information displayed in the modal, you can easily update it in the assignment form found in the middle of the page. Once you are satisfied with your changes, click on the Save button to confirm them. Refresh the page and you will see the updates reflected in the assignment modal.
Uses for Assignment Side Modal
The assignment form has many details that can be set for each assignment, the side modal gives you a good overview of all entries in the assignment form fields. You can use the modal to:
Review assignment instructions and guidelines for accuracy after creating a new assignment or duplicating an assignment template
Check personas associated with an assignment to ensure they are accurate
Confirming linked and uploaded reference materials are correct and available to users on an assignment
View the assignment timeline and history to see when tasks took place
Add new followers to an assignment conversation or remove a follower that no longer needs updates
Send and reply to messages on the assignment while viewing the full messaging thread