Working with your Clients in ClearVoice Agency Edition
Collaborating with clients, sending content assignments
The ClearVoice Agency Edition allows you to invite client users so they can provide feedback on assignments. All communication is consolidated in the ClearVoice platform.
Here's how to collaborate with a client for better results.
Inviting Your Clients and Setting Permissions
When you invite a client user, we recommend you give them the editor role. This gives them the ability to review assignments and provide feedback. Read more on user roles HERE.
In addition, your Customer Success Manager can set specific client permissions on a client-by-client basis. These permissions are: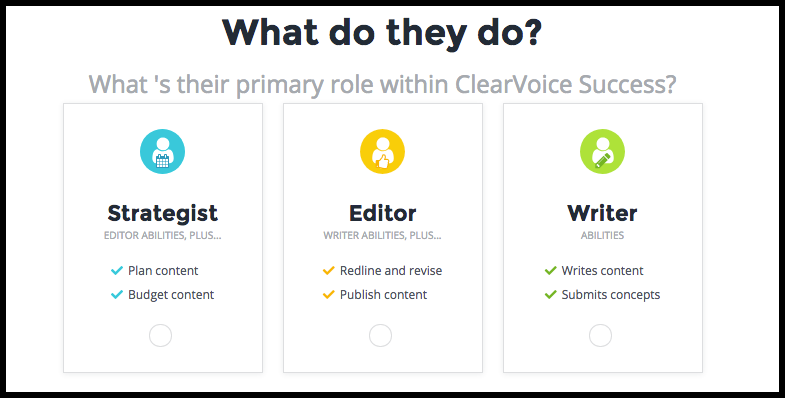 Approve Assignments - This should be checked if you'd like clients to have the ability to approve assignments i.e. move the assignment to Approved status and send payment to the writer if applicable. The default option is for clients to not have the ability to approve assignments.
View Prices - This should be checked if you want clients to see assignment prices and freelancer per word rates. The default option is for client to not see prices.
Assignment Workflows
Best Practice: Walk through all the assignment fields and workflow steps with your clients. This ensures everyone knows exactly what they're doing and what to expect.
Here's the process for taking an assignment from concept to published article.
Standard (With Marketplace Writer)
Assignment creation - Create a title and description for your assignment. Select the proper publication, tone, etc. Make sure the writer has all the required information.
Delegate (send) assignment to writer - Writer begins working, assignment moves to "In Progress"
1st round of revisions and editing - The agency team completes one round of revisions and completes edits before submitting to client.
2nd (Final) round of revisions and editing - Final tweaks and changes can be made before approval.
Message client - Client is tagged (@name) via the messaging tab. Client user is notified immediately via email and provides feedback and edit requests. Tagged users will become "followers" on assignments so they receive email updates about messaging, click their user icon to remove them as a follower.
Complete final revisions, approve - The agency team can submit a final revision round to the writer. The assignment can then be marked approved and prepared for publishing.
Additional Tips and Tricks from the ClearVoice team
Private (No message or revision history)
If you do not want clients to see messages and revision history on an assignment, you can complete the assignment then send it to the client separately. That process looks like:
Concept creation.
Delegate (send) assignment to writer.
Complete revisions and editing, approve the assignment.
Copy the assignment text and paste it into a new assignment.
Message client
Complete final revisions in-house, prepare for publishing.
Client concept creation
You can collect ideas from clients autonomously by encouraging them to add concepts to their account. Provide the client with these instructions.
Open the Create > Concept tab.
The only required field to create a concept is concept title. You can also ask the client to select their desired publication or add a description, keywords, etc.
Advise clients to list their account manager or whoever the appropriate person is to be the Strategist on the concept. This user will get notifications when new concepts are created.
Remember that you can message back and forth about concepts by using the Messaging tab (identical to assignment messaging).
Encourage agencies to develop a process for collecting ideas from the client and creating concepts to speed concept ideation in the future.
Soliciting Feedback/Requesting Revisions
All assignments with Marketplace Writers have a maximum of two rounds of revisions.
Make sure you get the most of these revisions by providing 90 percent of the revision requests in the first round. This means getting feedback from multiple stakeholders before hitting the "Send Back for Edits" button. The second revision request should be reserved for any minor tweaks that went unnoticed before.
Note: When using an in-house writer, there is no limit on revision rounds. The assignment can be sent back and forth as many times as needed.
Requesting Approval
There are two options for assignment approval.
A client can leave a message to indicate the assignment is approved.
A client can click the "Approve" button directly.
Contact your Customer Success Manager if you would like client approvals turned on.
Did this answer your question?