How to connect ClearVoice to your Hubspot for seamless publishing
You can use ClearVoice to organize, sort, and manage your content by Publication simply by adding the publication's URL. The ClearVoice API also allows you to "auto-publish" completed content directly to any Hubspot publication as a draft post.
You will need a Hubspot login that has Super Admin user permissions for step 7 below. If your login is not a Super Admin in Hubspot, you can use anyone from your organization that is.
How to enable auto-publishing with HubSpot
Select Manage > Publications from the left menu in ClearVoice
Select the publication you'd like to integrate with Hubspot, or select Create New Publication
If you are setting up a new Publication, enter the name, and the URL for the publication. If you are just integrating it with Hubspot, skip to step 4.
Expand the Hubspot Setup portion of the publication
Enter your Hubspot ID, as found in the upper right corner in your Hubspot account.
Click verify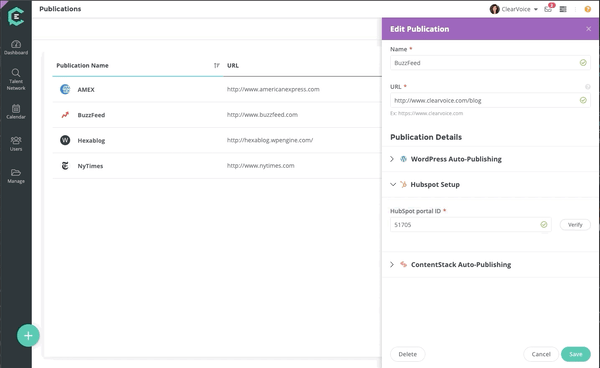 7. You will be asked to login to your Hubspot account
8. Once you have logged in, click Save
Voila! Now, ClearVoice assignments attached to your publication can be sent directly to your blog as draft posts via the Publish button within an assignment. Log in to your HubSpot account and navigate to your blog, then "Drafts" to review each post before pushing it live.
After you've connected your HubSpot blog, when creating your assignments, make sure you select the HubSpot publication under Settings & Guidelines. This will tell the assignment where to go when you click Publish from the assignment later. See below gif for an example.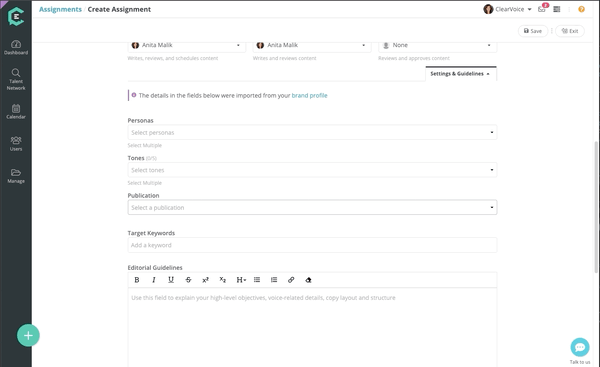 If you have questions, please let us know in the chat and we would be happy to help!