How to gain work through the system using the pitching feature
Pitch requests are a great way to gain instant exposure in front of a client. If you receive a pitch request, you are among a selected group of writers who have been given the opportunity to strategize and execute your own piece.
You will likely see a number of general requirements given by the client, guiding your topic toward a certain industry or avenue that hasn't yet been made into a full brief. This article on Pitching to Customers will describe more about how it works. Pitching can be advantageous for several reasons:
The freedom to pitch your own ideas
The opportunity to showcase your work as a writer
The chance to gain future work with a client
The ability to see a piece from strategy to approval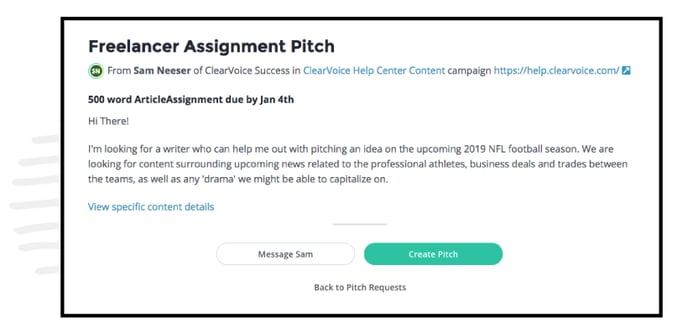 If you are asked to pitch to a client, your CV has likely been reviewed and they are interested in what you might be able to bring to the table. So, take advantage of the client reaching out! You never know what other work they might have for you to do.
Always feel free to reach out to our team in the chat below- We would be happy to help!
Did this answer your question?