Setting your availability in the Talent Network and what it looks like for users who may be looking for Talent Network writers
Updating Freelancer Availability
If you are not going to be available for work in ClearVoice, you can now set your status as Unavailable. To do this:
Login to your ClearVoice Account
Select the Account Dropdown in the top right corner of ClearVoice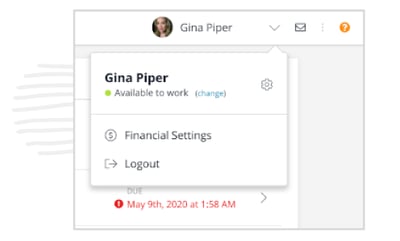 3. Click on Change next to your status; you will see a popup like this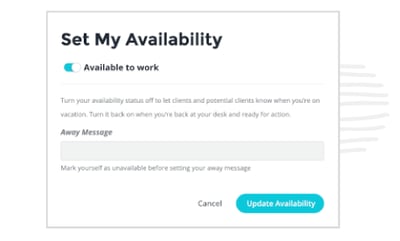 4. Click on the toggle, it will read Unavailable to Work and the away message will be available to write in.
5. Enter your message to customers in the text box. If you know a date you will be back, it may help to include it here for customers to know when you will be back.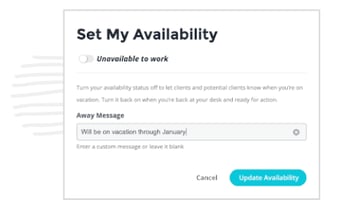 6. Select Update Availability to set yourself unavailable
Your Profile is now set as unavailable. When you return and are available for customers in ClearVoice, you would come back and switch the toggle to Available to Work.
What the Customer Sees
When a customer sees you as a match for a project in the Talent Network, they will see this, if you are unavailable:

Notice your avatar has changed to indicate you are unavailable, and your message is displayed when the user hovers over your avatar.
Your profile will also display differently in the dropdown for assignment creation, to notify the user that you are currently unavailable: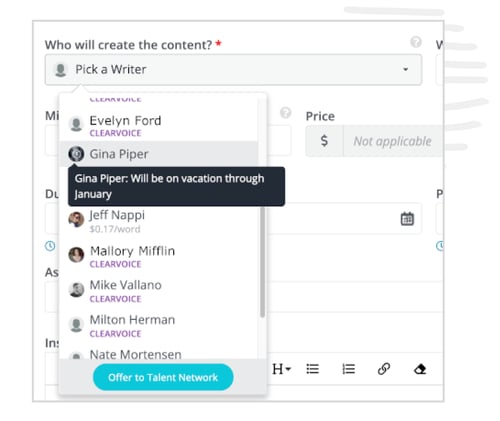 When to use the Availability Toggle
The availability toggle is useful when you are not going to be monitoring your ClearVoice account for some period of time. If you are looking to take some time off of Freelancing this toggle is a great tool to let customers know that you are unavailable, and not just ignoring their opportunities. If you include details for when you will be back, customers can still reach out to you for future opportunities, even though they know you are not currently available. You will still receive these messages and opportunities, so that you can respond when you return.
If you have any questions about using the Availability toggle in ClearVoice, please let us know and we'd be happy to help! You can reach us via chat in ClearVoice.